COACHES NEED COACHING TOO!
So you're thinking of taking the next big step in your career? I've had many mentors over my career and I'd love to be that for person for
you.
This unstructured collaboration is exactly what you need if you're looking to improve your current situation or are exploring other opportunities. No topic is off limits - training, personal, financial, business, public speaking. We'll address all aspects of your career and legacy.
Once I receive your contact information, I'll respond to set up an initial consultation so we can talk about your pain points.
The consultation is free.
I look forward to speaking with you!
- Coach B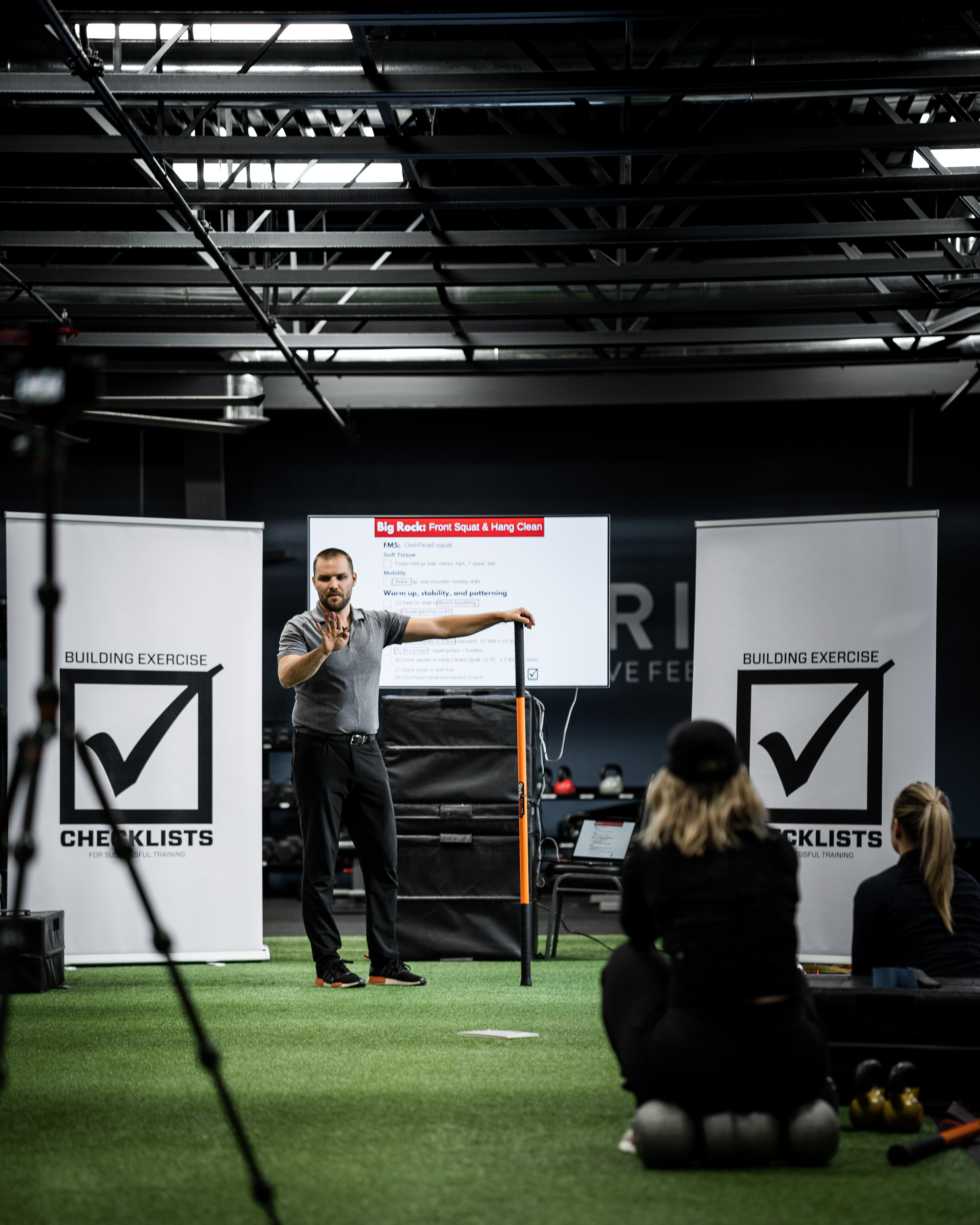 Hi, I'm Coach Brendon Rearick...
and I want to help you have a long and successful career in fitness industry. I've been in the business of helping people reach their goals for the last decade. Over those ten years, I worked my way up through the ranks at Mike Boyle Strength & Conditioning to owning and operating my own gym in Brentwood California with my wife.
Among all of the experiences and opportunities I've had, being a teacher and mentor has been the most meaningful. Starting in 2015, I took on those roles through Certified Functional Strength Coach (CFSC) and have taught over 100 courses worldwide and have worked with over 1,000 coaches. 
I want to work with more coaches, and Teachable is what I'm using to do it. My first two courses, 'Exercise Checklists' and '12-Week Starter Kit', are the culmination of my work to date packaged into videos, phone calls, and books. My third course, 'Coaching Rules' (coming soon), will give you practical and easy-to-apply strategies for improving your communication and presence on the gym floor.
If you have any questions regarding these courses, I'd love to hear from you: [email protected]
Course Curriculum
Available in days

days after you enroll

What we can talk about, work on together, and plan for:
WHAT DO COACHES WHO HAVE DONE MENTORSHIP CALLS WITH BRENDON HAVE TO SAY?
"HAVING BRENDON AS A RESOURCE AND MENTOR WAS A GREAT DECISION! HIS DEDICATION TO HELPING AND ABILITY TO NOT JUST TELL YOU WHAT TO DO BUT TO FACILITATE MY GROWTH AND UNDERSTANDING HAS BEEN HUGE. HE IS ALWAYS FOCUSED ON MY NEEDS AND WORKS WITH ME TO HELP ME BE SUCCESSFUL."
— MICAH HASSETT | VASA SALES AND FITNESS SERVICES
"BRENDON'S EXCLUSIVE MENTORSHIP PROGRAM HAS BEEN A GAME CHANGER FOR MY BUSINESS AND PERSONAL GROWTH AS AN INDEPENDENT PERSONAL TRAINER. IT'S BEEN A PRIVILEGE TO BE UNDER HIS GUIDANCE. IN DECEMBER 2019, I WAS MAKING A CRITICAL CHANGE TO MY BUSINESS MODEL FOR THE FOLLOWING YEAR. BRENDON SOUGHT TO FIRST UNDERSTAND MY GOALS BEFORE WALKING ME THROUGH ALL OF THE DETAILS. HE CHALLENGED ME IN WAYS THAT STRENGTHENED MY THOUGHT PROCESS, INSTILLED CONFIDENCE IN MY DECISIONS, AND ULTIMATELY HELPED ME CRAFT A SOLID AND SUCCESSFUL PLAN FOR 2020!"
— DUSTIN EASTMENT | OWNER OF INVICTUS MOVEMENT
"BRENDON IS AWESOME!! I REALLY APPRECIATE HIS COACHING STYLE (EASY TO TALK TO AND KEEPS YOU ACCOUNTABLE). HE GAVE ME WEEKLY ASSIGNMENTS, CHECKED UP ON ME REGULARLY AND HELPED ME THINK THROUGH STICKY POINTS WHEN IT COMES TO CREATING AND IMPROVING A FITNESS BUSINESS. WHILE WORKING WITH BRENDON I WAS ABLE TO RAISE MY PRICES (WITHOUT PUSH BACK FROM CLIENTS), GET MORE CLIENTS AND MAKE MORE MONEY. HE'S DEFINITELY SOMEONE TO TALK TO IF YOU'RE LOOKING AT BUILDING OR IMPROVING YOUR FITNESS BUSINESS."
— PATRICK SMITH | FITNESS COACH